Poker Sites Tournament Toolbar - Free Poker Tournament Feeds
Free Poker Toolbar
Scroll down for the free downloads!

The Poker sites free poker tournament toolbar is a unique and fully configurable web browser toolbar that works on both Internet Explorer and Firefox, displaying a live ticker of all upcoming scheduled poker tournaments at some 20 major venues with an integrated tournament search facility. It's a small download that installs a toolbar on your browser which provides a constant live ticker of tournaments to your specifications, including the type of tournament, the buy-in fee, venue and the scheduled start time. It offers tournaments on sites - many of which we have poker site reviews for, like Titan Poker, and hopefully soon Betfair Poker and Sky Poker. All of these sites come highly recommended by Pokersites.co.uk.
This page is chocked full of information that'll quickly have this fantastic tool front and centre in your browser:
The poker rooms covered by the Toolbar.

Features of the Poker Tournament Toolbar.

Why the Toolbar won't cost you a thing.

How to get your Poker Tournament Toolbar.
Use the toolbar to find out where and when the next World Poker Tour qualifiers or World Series Of Poker tournaments are taking place along with plenty of other major and televised world poker tournaments.
The following poker rooms (Network) are all included in the live tournament toolbar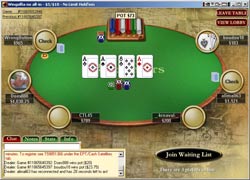 | | | | |
| --- | --- | --- | --- |
| 24h Poker | Absolute Poker | Bet365 Poker | Bodog Poker |
| Everest Poker | Expekt Poker | Full Tilt Poker | InterPoker |
| Intertops Poker | Pacific Poker | Party Poker | Poker Heaven |
| Poker UK | PokerKings | PokerStars | Pokerroom |
| Titan Poker | Tony G Poker | Virgin Poker | |
Full Toolbar Feature List
A list of features to be found on the Poker Sites Tournament Toolbar:
Compatible with Internet Explorer and Firefox


A constantly flowing "live" ticker of poker tournaments on your browser toolbar
All tournament times automatically converted to and displayed in your local time
Tournament schedules updated to toolbar silently and in real-time
Select the venues whose tournaments you wish to see/ignore
Displays satellites, qualifiers, Turbos, MTT's, exclusives and more
Add optional filter keywords/phrases to filter only relevant tournaments
Add optional "buy-in" filter to only show tournaments in a given fee range
Select pre-tournament notification time from 30 minutes to 4 hours in the future
Optional free-format search box display to search all tournaments for given terms
Optional local time display on the toolbar
Change the ticker speed and pause time
View a full list of future scheduled tournaments, with or without filters
Clickable ticker links to view more detailed tournament information
Includes Toolbar Uninstall and Hide options on the menu
No information is passed out from your computer at any point
100% FREE - no adware, no spyware and no registration required (see below)
You can configure the toolbar as much you like. Filtering keywords makes the tournament schedule more manageable and personalized. The poker rooms can be selected and unselected to give you just the ones you want. You can also override this to see the freeroll tournaments from every room. The list of features above shows you all the options you have.
Why Is It Free?
It really is free, neither are there any annoying ads or popups, and this is why: I have struck up "affiliate" deals with (most of!) the poker rooms on the ticker so, if you see a tournament you like and click one of the links on the Pokersites website to sign up at the poker room, they will give me a small "rake" from each hand you are involved in. It costs you nothing, and if this works out like I hope and the toolbar gets popular, it'll stay free and I can continue to support it.
If you use the toolbar and find it useful, aside from sending it to your friends, I hope you will use my links to download any poker room you wish to join, which will (hopefully!) cover my support time as I add more rooms, features etc, etc. That's the theory anyway...!
Free Downloads
To download the toolbar, click one of the links below. For Internet Explorer, download the zip file from the link below and run the .exe contained therein to install. Firefox users click the Firefox link below and follow the onscreen prompts.
Select your Poker Tournament Toolbar download:
Important Note: The current version is a BETA version (0.2) and is not signed with a security certificate. Users of Firefox and/or Windows Vista may be warned that the file, being unsigned, is potentially harmful. It does not contain any malicious code, adware or spyware, but you might prefer to wait for a signed version of the first Alpha release which is expected in 2008. Your call obviously :-)
Choose to "Save" the file and then open it when prompted
» IE Toolbar Download (zip file, 852kb)...»
» Firefox Toolbar Download (xpi file, 737kb)...»
Once installed, your browser will restart and take you directly to the toolbar configuration page where you can set your filters and view tournaments.
If you want to play online poker in pounds we recommend many great poker sites like Bet365 Poker.