iPad Poker Games & Apps for UK Players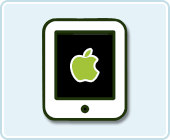 Got a new iPad tablet? You might want to create a new "Poker" folder on it. Just like the iPhone, we found tons of iPad Poker apps that you'll love. And they're all designed for UK online players.
With your iPad and the services from sites like 888 Poker, you can play all of your favourite poker games any time of the day. You'll benefit from loads of advantages by playing at the top iPad friendly poker sites that we recommend:
Huge bonuses for UK iPad poker players

Easy and fast deposits & cashouts

Great graphics on Apple tablets.
Before you jump on to just any site, you've likely got a few questions that you need answered. As Apple iPad online poker players ourselves, we're thrilled to answer them for you. Read on before you tap your way to a big bluff.
Is iPad poker legal to play in the UK?
Gambling online is perfectly legal in the UK. And here's the best part. Unlike other countries that either ban online poker or regulate it but tax it, you're free to play iPad poker online without worrying about handing over your winnings. iPad poker sites online already take rake and tournament fees. Do you want to hand over more of your hard earned cash to the government? We didn't think so. Thankfully, there's no special trick to dodging the taxman. Just play and keep your winnings. The UK remote gambling laws are built so that the poker room is taxed, not you.
Can I play poker on my iPad anywhere?
---
iPad poker is second to none, offering a great experience that you can't get on smartphones or desktop computers.
---
Sort of. The iPad comes in two flavours. There's the WiFi only version. And then there's the WiFi + Cellular model. With the latter, you can access iPad online poker sites from anywhere in the UK, as long as there's a reliable Internet connection and assuming that you've got a SIM card installed. Of course, you'll also need a data plan. You can also hook up to WiFi networks with that model. The WiFi-only model relies on WiFi networks, so it won't work if you're trying to jump on a cellular network.
What poker games can I play on my iPad?
Anything and everything. If you've played it live with friends - if you've played it at an Internet poker site on your computer - you can play it on your iPad tablet. From tournaments to cash games, from Texas Hold'em to Omaha and everything in between, the Apple iPad tablet is your gateway to pretty much any poker game you can think of.
Do I need specific poker software to play on the go?
You do. But grabbing it is easy, especially in the UK. You'll find iPad online poker in the App Store. The best way to access them is through a poker site that you want to play at directly. When you find iPad poker sites online that you like, just jump over to their website for the direct link to their app. You'll be able to get up and running with some real money Hold'em in seconds.
Can I make a deposit using my Apple tablet?
Definitely. And unlike trying to use the cashier on your smartphone, online poker iPad gambling sites make depositing and withdrawing a pleasure. Due to all that extra space, you'll never worry about tapping the wrong paying method while you initiate a deposit or withdrawal.
Are the graphics good?
Playing poker on the iPad is by far our favourite gaming experience. Apple iPad poker is second to none, offering a great experience that you can't get on smartphones or desktop computers. We love dropping our iPad on the table and pretending we're playing in a live poker tournament. The way the cards hit the virtual felt, complete with sound effects and cool animations, makes us feel like it's the real deal.
Are there any limitations in stakes?
None whatsoever. Don't get us wrong. If you're trying to play poker on your iPad for $5,000/$10,000, chances are you won't find it. You'll need to go to the high roller's room in Monaco to even get anywhere near that. But for regular stakes that range from $0.01/$0.02 to $100/$200, iPad poker sites online have you covered.
Are iPad poker apps and sites safe to play on?
Yes. The beautiful thing about the iPad and iOS as a whole is that the experience is totally verified and vetted by Apple. An Internet gambling app doesn't make it onto the App Store without passing through Apple's security clearance system. That means that when you log in to play at iPad online poker cardrooms, you know you're playing somewhere safe and reputable.
Related Guides