Windows Phone Poker Apps & Games UK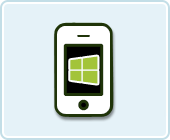 Like the whole tiles experience on your Windows Phone? We do. And what we especially love is how one of those tiles can instantly flip like a playing card and lead to a virtual poker room. With Windows Phone online poker sites, you can play your favourite games like Texas Hold'em in the palm of your hand - anywhere in the UK, anytime.
Poker sites that offer an app for Windows phones are little limited, but 888 Poker is a top site that you can access with these mobile devices. Read on for all your questions answered. And ponder the fact that while you might spend a lot of time hunting down the top Windows Phone friendly poker apps, you could instead be playing at them lickety split. Put your search engines and bifocals down, and step into the light of our top Windows Phone friendly online poker sites, where you'll find best of breed features like:
Quick & easy banking options

Huge bonuses for Windows Phone poker players

Tons of fish for easy winnings

Best levels of security and integrity
What poker games can I play?
---
Whether you're into cash tables, tourneys, or SnGs, you'll likely find what you're looking for on an online poker Windows Phone site.
---
Virtually anything. Chances are, if you've played it live, you can play it on Windows Phone. Poker sites online that offer games on smartphones usually stack the deck with everything you could possibly want. While Hold'em is pretty much always guaranteed to be available, you'll also find Omaha, HORSE, and other games. And whether you're into cash tables, tourneys, or SnGs, you'll likely find it on an online poker Windows Phone site.
Do I need a special app to enjoy mobile poker?
It's no secret that you don't have access to as many apps as your iFanatic and droid-loving counterparts. But when it comes to playing Windows phone poker, we're all in the same boat. There are loads of Internet gambling poker rooms available. The best sites will either have a downloadable app or offer you seats in their poker room through Internet Explorer or whichever browser you're rocking.
Is Windows Phone poker legal to play in the UK?
It's common knowledge that Internet poker is perfectly legal in the UK, but Windows Phone users have been confused on whether smartphone gambling applies, too. The good news? It does. The UK gambling law only talks about remote gambling and doesn't stipulate whether games are played on a Mac, PC, or smartphone. That means Windows Phone poker falls under the same law as computer-based poker-and it's all perfectly legal to enjoy in the UK.
Can I play poker on my phone anywhere in the UK?
If we said yes, we wouldn't be telling you the whole truth. Yes, you can play Windows Phone online poker from wherever you can get an Internet connection, but if your connection is weak or non-existent, then you can't play. Remember, while Windows phone poker sites online might offer you a downloadable app, you're playing against real people around the UK. You need to be connected to the Windows Phone poker site's online servers to play against other people. That's true even if you're playing free poker against other real players.
Can I make a poker deposit on my phone?
If you've got a Windows Phone, you technically don't need a PC or Mac at all to play poker. We're serious. Anything you can do on your computer related to playing poker you can also do on your smartphone. And we're not just talking about putting in your big blind. Hitting the cashier is just as easy on a Windows Phone poker Internet cardroom as it is on a computer-based site.
Are the graphics good?
No, they're great. This phone is a relatively new operating system. It hasn't been out as long as iOS or Android, and that means that any Windows Phone poker app is going to be fairly new-within the last year or two. So you can count on an experience that's been designed and developed using the most cutting edge technology.
Can I play all stakes on my mobile?
Whether you're a high roller or someone with just a few pounds to your name, don't worry. Windows phone online poker sites cater to players of all bankroll sizes. In fact, many Internet gambling sites in the UK let Windows Phone poker players enjoy games for free. And if you've got a large bankroll to play with, you'll find all the same stake levels that you can find on the desktop experience.
Is it safe to play poker on my phone?
When smartphones first came out, people were concerned about whether they were as safe as Windows. The bottom line, however, is that smartphones tend to be a lot safer than desktop PCs. Of course, when using your mobile to play online poker, you should still take security precautions, like installing anti-virus and malware protection. But you don't have to worry about Windows Phone poker sites online being dangerous. The top ones take the same encryption and security measures as your bank.
Related Guides